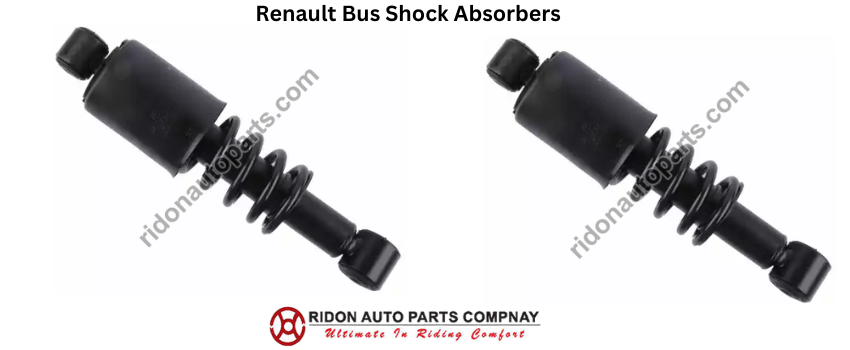 We frequently associate horsepower and a powerful engine with smooth driving. A strong engine is essentially useless without the driver's ability to handle the vehicle. Shock absorbers by Renault bus shock absorbers supplier step into the spotlight at that point.
Shock absorbers, as its name implies, physically absorb the uncomfortable effects of bumpy roads and inevitable potholes. It improves the driver's control of the vehicle as well as the general comfort of all passengers. Continue reading to learn more about the advantages of shock absorbers and why you ought to give them more thought.


Safety
The majority of us define car safety as wearing seatbelts and adhering to the speed limit. However, a flawless suspension system is synonymous with automotive safety in the eyes of certified mechanics and automakers. Shock absorbers are a suspension system's primary building block.
They therefore play a crucial part in ensuring steering stability and overall vehicle safety. They ensure that our automobiles stop easily and do not swerve to the sides in windy conditions.
However, if you are having problems of this nature, you must fix or replace the shock absorbers on your car. Shock absorbers that are worn out are unable to control the vehicle and can increase stopping distance by up to 20%.
Stability
Stability is also another crucial function of shock absorbers by Renault bus shock absorbers exporter. They increase tire-surface friction, enhancing vehicle stability on the road. If all city, state, and rural roads were exactly level, shockers wouldn't be required. However, even newly resurfaced roads include minute imperfections. that exert stress on the wheel and cause it to oscillate up and down.
Without shock absorbers, the vehicle's structure would receive all vertical energy from the wheels. As a result, it's possible for the wheels to briefly lose contact with the road before slamming back onto it. Due to Newton's Law of Gravity, potentially damaging the car or the people within.


Comfort
The most frequent attribute of Renault Bus Shock Absorbers is comfort. Since the creation of the first automobile, improving passenger comfort has been a significant industrial task. Because of this, absorbers were created.
In addition to maintaining the stability of the vehicle, their responsibility is to guarantee the comfort of all occupants. To ensure a smooth and pleasant ride, they lessen the intensity of vibrations brought on by various road irregularities.
Hopefully, we were able to clarify the benefits and significance of shock absorbers for a comfortable driving. They must be constantly maintained and tested since they play a crucial role in both overall comforts. The stability and safety of the vehicle.


How to Identify Malfunctioning Shock Absorbers?
You will need to decide whether to let the technician repair the appropriate parts or change the entire item. Based on the results of bounce and oil leak tests at your neighbourhood maintenance shop.
However, it is virtually always true that sending a car to a technician may be expensive. It is frequently unneeded if the owner of the car can identify the issue. It is simpler for a car owner to discover these parts on their own. If they are aware of the distinction between shocks and struts.