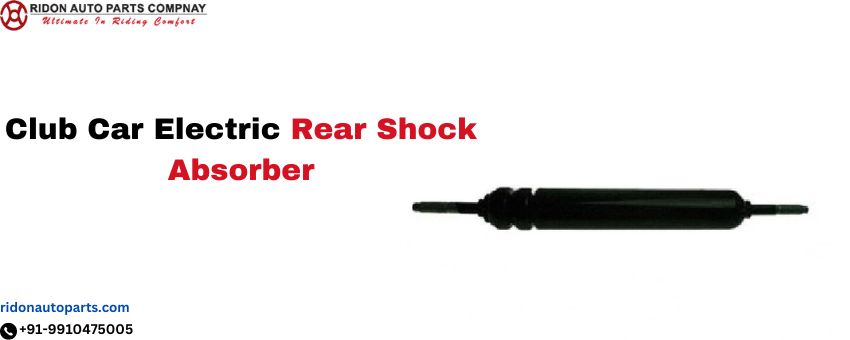 Electric vehicles (EVs) are already a major force in the automotive industry as the globe moves toward a greener future. The shock absorber, which ensures a comfortable and smooth ride, is one such crucial part. To achieve the best performance, passenger safety, and comfort, selecting the right Electric Vehicle Shock Absorber Manufacturer is essential. This extensive guide will examine the key elements to take into account when choosing the ideal Electric Vehicle Shock Absorber manufacturer.
Knowledge and Work Experience
The first step in choosing the right Electric Vehicle Shock Absorber exporter is to evaluate their knowledge of the market and experience. Be sure to choose producers who have a track record of creating high-quality shock absorbers for a variety of cars, including electric vehicles. Take into account their familiarity with electric car technology and their comprehension of the particular requirements these vehicles' shock absorbers must meet.
Observance of Certifications and Quality Standards
Since shock absorbers have a direct impact on both passenger comfort and safety, their quality cannot be compromised. Prioritize companies with the necessary qualifications and strict adherence to quality standards when assessing a prospective Electric Vehicle Shock Absorber supplier. This dedication to quality might result in dependable and long-lasting shock absorbers for your electric car.
Capabilities for research and development
Electric vehicle technology is developing quickly, and shock absorber designs must change to accommodate EVs' particular characteristics. Shock absorbers can be more effectively designed by a firm with strong research and development (R&D) capabilities. Ask the manufacturer about their R&D initiatives, advancements, and any patented technologies they provide.
Options for Customizing Your EV
Every electric vehicle type has a unique set of specs, which can include things like suspension layout and weight distribution. Select a brand that provides customization choices for their shock absorbers if you want to assure optimal performance. Shock absorber customization demonstrates a manufacturer's dedication to providing solutions that are unique to your electric car.
Wide-ranging Testing and Validation
Shock absorbers should go through extensive testing and validation before being incorporated into your electric vehicle. To ensure that their shock absorbers fulfill safety, performance, and durability standards, choose a manufacturer that does extensive testing. The manufacturer's dedication to providing high-quality items can be trusted if testing procedures are transparent.
Logistics and Supply Chain Efficiency
For shock absorber production and delivery to occur on schedule, a successful supply chain is essential. Ask manufacturers about their supply chain procedures, such as sourcing materials, production schedules, and distribution systems, while evaluating them. You can prevent manufacturing delays by working with a manufacturer who has a well-managed supply chain.
Environmental and sustainability issues
Sustainability has been a growing business priority for the automobile sector, including component producers. Take into account producers who place a high priority on green measures. Your electric vehicle's overall eco-friendliness is enhanced by partnering with a manufacturer dedicated to sustainable business practices.
Providing assistance to customers
The dedication of a company to establishing lasting partnerships is demonstrated by its commitment to customer service and support. Choose a manufacturer that offers helpful customer service, open lines of communication, and guidance all along the buying process. In order to solve any worries, queries, or problems, prompt and effective support can be essential.
Reputation in the industry and references
Do not forget to take into account the manufacturer's standing within the automotive sector. Look for feedback, endorsements, and references from other producers of electric vehicles who have used their shock absorbers. Positive reviews from reliable sources offer important information about the dependability of the company and customer contentment.
You may confidently select a decision that is in line with the needs of your EV by carefully weighing these elements. You may get shock absorbers from a trustworthy and knowledgeable manufacturer that not only meets but also exceed your expectations. Choosing the ideal manufacturer will ensure that your electric vehicles fulfill their promise of providing innovative and sustainable transportation.